The 10 greatest cars to ever race at the Le Mans 24 Hours
06 June 2015 - 02:00
There's just a week to go until the 2015 installment of this epic annual circuit race, which sees teams of drivers clock up over 4 500km as they race for 24 hours straight. Since 1923, many cars have competed in this French Grand Prix of Speed and Endurance; here are the most memorable.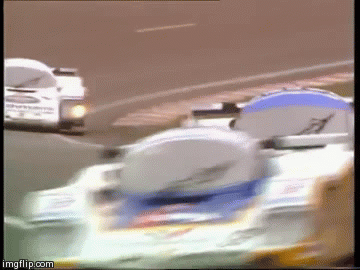 1. PORSCHE 956/962
With 16 wins to their name, Porsche remains the most successful marque in the history of the Le Mans 24 Hour. While the German firm notched up victories with a range of different models over the years the most successful (and arguably most iconic) has to be the 956 and its slightly more evolved sister, the 962.
Mixing enormous speed, reliability and downforce in equal measure these turbocharged twins, with their iconic blue and white Rothmans liveries, dominated Le Mans and the World Sportscar Championship from 1982 to 1987. The 956 still holds the lap record at the infamous Nürburgring Nordschleife.
2. MAZDA 787B
To this day the Mazda 787B remains the only Japanese car to claim overall victory at the Le Mans 24 Hour. Adding to its allure is the fact that it accomplished this feat using an unconventional Wankel rotary motor that flew in the face of the turbocharged internal combustion engines that were so in vogue at that time.
Great to look at – that Renown livery became an instant classic – it also sounds like no other racecar on earth: it's as if a 1970s Formula 1 is being chased down a drainpipe by a swarm of angry bees.
3. AUDI R10 TDI
The second diesel car to run at Le Mans but the first to actually win it, the R10 TDI is an undisputed classic of the modern era. Complemented by a fine pool of drivers as well as exceptional engineers/strategists (Leena Gade and Howden Haynes), the aptly named 'silent menace' dominated from 2006 to 2008 and put diesel racers firmly on the map.
4. FORD GT40
Okay so here's the long story cut short. Ford is about to buy Ferrari out. At the last minute Ferrari goes full Italian and gives Ford the finger. Henry Ford II is enraged by this flaky act of disrespect and orders his race division to build a car that will destroy Ferrari on the world sportscar endurance racing stage.
What they come up with is the GT40 you see here. And it beat Ferrari's outfit to the checkers from 1966 to 1969. It also singlehandedly immortalized the famous powder blue and orange Gulf Oil livery.
5. PORSCHE 911
Radical Porsche 935 and 911 GT1 aside, the standard Porsche 911 has never claimed an overall Le Mans win. It has, however, dominated the lesser GT classes since it first debuted back in 1966. With over 30 class victories to its name, this famed rear-engined sportster is actually the most successful Le Mans car of all time.
To this day it remains a firm favourite with professional (GTE-Pro) and gentlemen (GTE-Am) racers alike.
6. CORVETTE C6.R
From its debut in 2005 right up to its retirement in 2013 the Corvette Racing C6.R was always a big Le Mans crowd-pleaser thanks to its loud paintwork and even louder V8 engine/exhaust note.
Seriously, trackside in the middle of night, nothing sounded quite like this great blunt hunk of Americana: a deep and thunderous bellow that shook the grandstands right down to their quivering concrete foundations. Aural presence aside, the bulletproof C6.R also chalked up numerous GT class wins, adding much silverware to the GM trophy cabinet in the process. Privateer outfits such as Luc Alphand Aventures also campaigned this 'Vette with much success.
7. PORSCHE 917
One of the most revered Porsche racing cars ever built, this one got off to a very rocky start. In its infancy it was a daunting monster of a machine that scared even the most brazen of pilots with its terrible handling and gut-churning space. Then in 1970 John Wyer and his JWA Gulf Team took over the reins and their chief engineer, John Horsman, transformed it with some fairly simple aerodynamic modifications.
From this point onwards the 917 became the stuff of a legends: an endurance-racing demigod that won the Le Mans 24 Hours and the 'International Championship for Makes' two years running. The 917 became so unbeatable that the FIA (International Automobile Federation) banned it by changing the rules.
8. HOWMET TX
The Howmet TX didn't win the 1968 Le Mans 24 Hours. In fact it didn't even finish. So why is it on this list then? Because despite its failings the Howmet TX was the most successful gas turbine-powered prototype to have ever whipped around the Le Mans Circuit de la Sarthe, winning the SCCA (Sports Car Club of America) sanctioned Marlboro 300 and coming first in class at Watkins Glen. Its distinctive sound and appearance meant it attracted considerable attention from the public and press alike.
One still survives today and is often seen campaigning at the prestigious Le Mans Classic that takes place every two years.
9. FERRARI 512
Ferrari designed the 512 to take on the Porsche 917 in 1970. It was powered by a liquid-cooled 5.0-litre V12 engine that, unlike the simpler air-cooled 12-cyliner boxer doing duty inside the Porsche, needed an intricate web of cooling pipes plus a heavy radiator. Reliability suffered and as a result and it could never really hold a candle to its hard-charging German rival.
Still, it more than made up for this with its skin-prickling engine note and gorgeous bodywork. No wonder it landed a starring role alongside Steve McQueen in the cult racing film, Le Mans.
10. WM P88 PEUGEOT
If you can't beat them, outrun them – even if just for one lap. This was the philosophy adopted by the Welter Racing outfit in the 1988 event with their super slippery, super fast MW P88 Peugeot Group C prototype. After the car dropped out early on in the race the mechanics spent over three hours attending to the problem.
Eventually fixed, it was then sent back out onto the track with pilot, Roger Dorchy, behind the wheel. Instructed to crank the turbo boost up to maximum, Dorchy put the hammer down and managed to clock 407km/h down the then chicaneless Mulsanne straight. Not soon after it retired due to terminal electrical, cooling and turbo problems.
This record still stands today and will, unless the chicanes are removed, probably never be broken.
The 83rd Edition of the Le Mans 24 Hours (24 Heures du Mans) will take place June 13-14 2015 at the Circuit de la Sarthe, Le Mans, France.